Last friday… at about 12noon.. i smsed Erin… "where u going for lunch ah?"
she replied " we all having lunch at pyramid! come!"
therefore… Albert and I joined Erin n the others for lunch at Bar B-Q Plaza.

lets not care about the food pics la ok?
ahahha (l-r) albert, erin, evie

the moment i arrived… this fella say " come come sit here(patting the chair on his right).. i wanna sit with pOp"
so i went n sit there lo.. ahhaa actually not many choices of seats lah.. since the other empty seat was already taken by albert.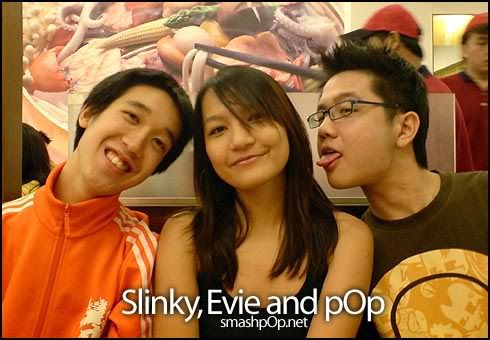 then slinky came.. sat nex to evie.. n we all continued eating n talking… n eating… n talking…. n eating… n talking…

again.. i felt lucky that day… haha (top right photo taken from kelli's blog)
actually coming to this place for lunch was Chung Lern's idea…
but he couldnt make it cos he has to work.. kesian
thats y we took a group shot using my phone n sent to him withthe message "wish u were here"
and he replied with another mms.

accompanied by "*muax" and an audio file "im bored!!!"
after eating we went out of the restaurant and posed with their macsot dino.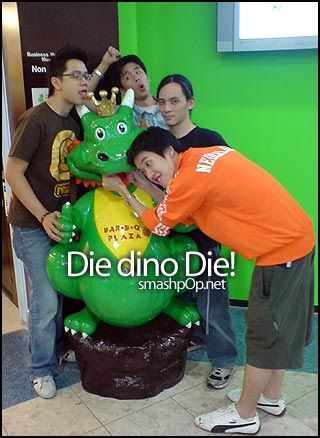 suddenly the dino bekam femes.. lol