________________________________
The Big Bloggers Gathering on the 3rd of February was great. A total of 69 (or was it 67) bloggers turned up. Thanks to the organisors, Yeehou n Jolene.

We gathered at Wizard's Cafe Sg. Wang. I had this sweet n sour fish there. Sux. lol

A group foto of us. Rames, Cherrie, me and Jen. We were wearing the different shades of pink that day. 😀

There, I got to meet new friends.. new bloggers, and of course, some bloggers that I have already met long time ago. In the photo: Me, Victor, Kyels, Julee, Dylan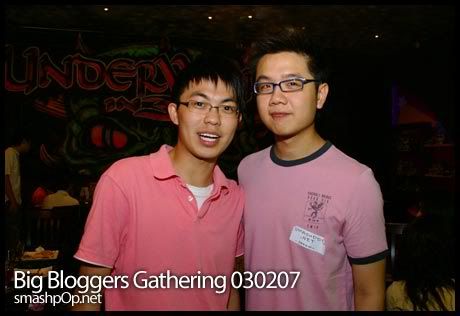 Ken wore pink too! Must take foto. ahahaha

The quiet and sweet miszmilk. I was shocked when I found out that she did not have a camera with her. Thus, the entry in her blog about the gathering without any pictures at all.(but it was still damn nice to read)

another small group shot. Me, Justin the very very new blogger, Jen, Rames and the white Pinkfrog.
More photos tomoro 😛