Big Bloggers meeting pt.2

Fanseee of the boss from LengMou. Ken, Me, Boss Stewie, Miszmilk and William Leong.

Wahrao… hug like very close lidat. ahah memang very close la.. kan? Jolene, Aprilcherrie and Jenifer.

Kingsley aka Hopeless Romantic. Still tak biasa with his shortER hair. hmm must see bek old pics.

Eve, me and Joosing.
Eve is cute. Joosing is cuter! lol eh u 2… nex time talk more ya. that day not enough heh

Jenkin Yat and his chinaman pose. I just only realised few months ago that we were from the same primary school. ahhaha
and then… we manage to grab some people n take the not so official half group shot.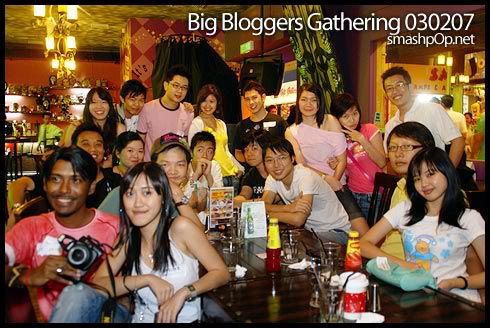 Some of the people u can see in this photo: ME!! lol.. Asyraf, Stef, Kakicucuklangit(nazrul), Splashmilk, Pinkpau, Scott, Josh, Rames, Kelli, Jolene, Patchay, Justin, Jen, Cherrie, Kingsley(did i just named them all?)
Last part tomoro!! and erm..
"smashpOp Pimps You" result? Winner, 1st runner up, and 5 consolations. 😀