So after the farm.. we went to our hotel to check in. We stayed at Vibe: Surfer's Paradise.
After checking in at about 430pm, we were given the keys and we went into the room. It wasnt a grand hotel so the room was ok ok lah….

I didnt expect them to give us 3 beds you know.. hmm ok nvm.. since we'll spend most of our time outside..
then we went out to the balcony and we saw this….

Nerang river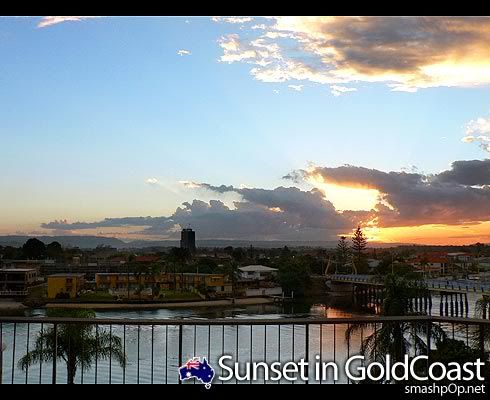 SUPER NICE VIEW OKK!!!!!!!!!!!!!!!!!!
heres a video to show u 360 degrees. lol
click play pls.

The ppl in the video were my parents and also the neighbour.. our tourmate from next door.
At about 640pm.. we were all set and cleaned up…
so we went doen to the lobby to wait for everyone to gather n 'march' to Hard Rock cafe which was down the road form the hotel.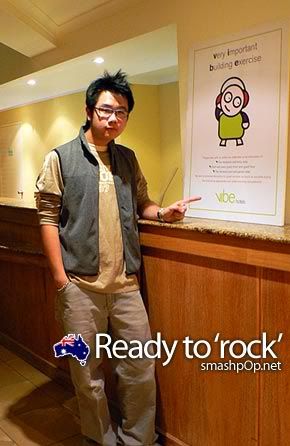 So I took a picture nex to this logo.. the hotel logo.. or something like that.. mascot maybe.. i dono..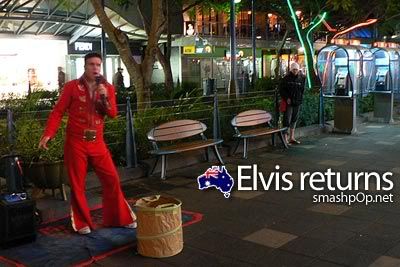 The moment we arrived at Hard Rock cafe, we were welcomed by the voice of Elvis.(a street performer)… everyone was hungry shiet.. so they went up but i stood there to take this pic for u guys to see(i so good rite? :P)