Star Cruise pt.3 !!!

That's me playing water.
After that we went to the gym to work out for an hour (to burn all the stupid chocolate that gave us basketball bellies)
and at about 730 we walked to the outer part of Mariner's club to have dinner. Buffet dinner… hahaha buffet after swimming n gym… woooooooooooot! eat like hungry piglets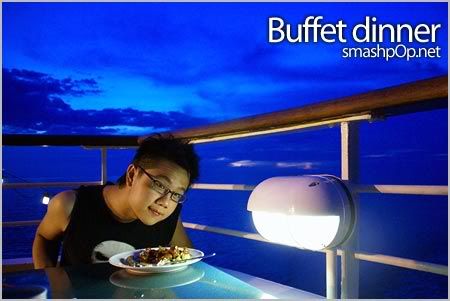 damn like this photo. look at the blue sky behind me… n the sea below me… (pretend u can see the sea la ok)
Ate til 830.. then dad suggested we go eat again at Ocean Palace.. the restaurant that serves alacarte at deck 4… ahah since food is free.. might as well go eat somemore

this is the place.. a bit the high class look… thats why i was asked to go n change to shirt n long pants before going in…. -_-"

here i am.. wearing a shirt… ahaha the one nex to me was my mum
i m not a big eater ok… i don like to eat a lot ok… i m not a greedy person ok..
😛

i seriously couldnt put anymore food into my stomach.. but i forced these down..
appetizers… escargot

chicken consomme soup

and the main dish…
at this moment… i could already feel my basketball belly getting rounder
i didnt get to the dessert.. too full… seriously too full.. >.<
til then…. see you tomoro! 🙂 hope everyone likes my new layout n design. 🙂