Jen: U DONT DO I GO KICK UR CAR
Jen: STEAL UR CAM
Jen: EAT YOUR FUD
Jen: TEL YOUR MAM
smashpOp: wah
smashpOp: somemore wat will u do? 😀
Jen: ERR
Jen: DOWAN CHAT WIF U
Jen: lalalallalalaa~~~~
Jen: canot chat wif me sure die wan
Jen: dats d worse edi
smashpOp: ok ok the must do liao.. cannot chat with jen can die wan >.<
and so I was forced to do the tag by Jen.
Seems like I have to post photos of the owner of this blog(ME!) and write about myself.
ok here goes. photos that I got from my archives.

one day I got the idea of jumping when taking photos cos someone I saw in the Net inspired me.(Taken in KL Convention Center by Slinky for his college assignment)

but then jumping alone is not as much fun as jumping with friends!(Me, Koolz, Tungz in front of Queensbay Mall Penang)

Sometimes I got bored of jumping so I grab some props and think of some funny poses(Rames and I.. jumping at the Astro carpark during lunchtime)

I like travelling with my friends. We can do so many silly things and take pictures and dont care what ppl say. ahha(Cherrie, Jen, Rames, Brandon and me.. at Port Dickson beach)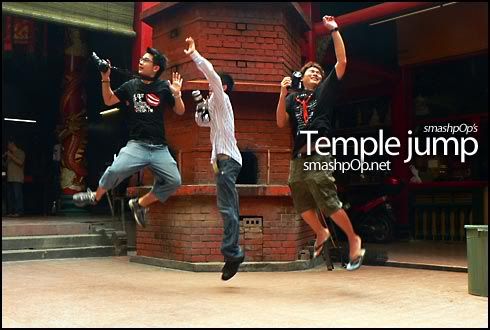 I like going photoshoot outings too! Especially with my dSLR buddies. Walking around take photos of stuff around us.. enjoying the pleasure of capturing moments.(Me, pinkfrog aka xianjin, Yipseng in a chinese temple at Petaling Street)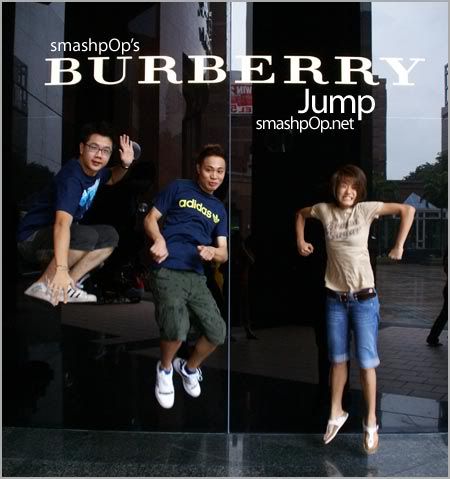 I like meeting new friends too! Like these 2 person that I met in Singapore. They wanted to jump with me and we did it. (Thats Iwan and Karenn.. we were jumping outside Takashimaya building in Orchard Road)

I like to see when people started jumping in their blogs… photoshoots… haha.. most of my friends are so used to jumping they can make silly faces while they at it too.(Eugene, Rames, Junn, Hikaru, Ryan, Jed and me.. jumping outside Wongkok Charcanteng Ampang after my birthday dinner)
yay tag done. Jen happy now?
so now whoever wanna do this tag.. just do la ok. its fun posting pics of urself in ur own blog. lol
btw..
IVE GOT MY FIRST CHEQUE FROM ADVERTLETS!