EVERYONE FREEZE!!!
haha… It's a special day today cos more than 1000 people(according to TV3 news) attended the KL Freeze event at Bukit Bintang today.
To those whom have not heard, it's an event where we people… gather at one spot and freeze ourselves for a few minutes in the public.
We all got invited(or somehow stumbled) into this KL Freeze facebook page and that was how we got to know about it.

We gathered at LOT 10 at about 230pm today… yes…. that 1000 people swarmed into the mall and all waited for the organisors to give out the details of the freeze.
at about 3pm everyone sorta like got themselves a small orange paper… see below.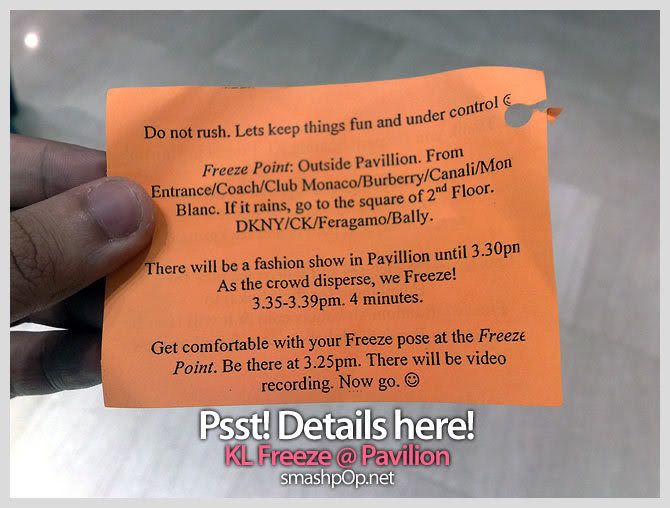 so we slowly walked over to Pavilion.

Suddenly Bukit Bintang was packed with ppl. Suddenly LOT10 no more people. ahahaha

and here we are… our Freeze Point.
we took some photos before we start freezing at 3.35pm.
at 3.35pm… every single human in Pavilion froze all of a sudden! ahhaa its like Hiro Nakamura stopped time kinda thing.
WATCH THE VIDEO! DAMN NICE ahahahaha

(if ur wondering whos the lady in pink, thats my mum)… and to those who didnt get to make it, wish u were here. 🙂
MORE PHOTOS TOMORROW!