Doong doong doong chiang! Doong doong doong chiang!
Haha. yes.. i consider myself lucky cos i managed to see the lion dance show when i was at Jusco Maluri on sunday. Waited for it from 2pm to 4pm.. sat in Starbucks while looking out the glass window.. *kanjiong kanjiong*
and it finally started


Huah!!! look at that.. they can jump higher than my trademark jumps! lol
Here's some photos i took during the performance.


When the show ended, i saw them laying the Lion head on the ground.. so i quickly squatted next to it to snap a photo.. muahaha.. lucky me lucky me.. :þ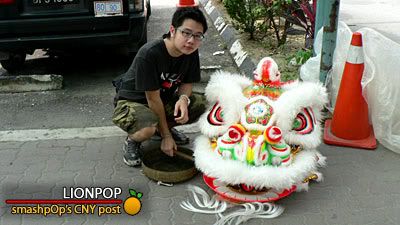 Took a short video of the lion dance. Click play button and enjoy!