THE CITYYYYYYYYYY!!!!!!!!!! AHHHHHHHH SHOPS!!! FOOD!!!!!!! MORE SHOPS!!!!!!!!!!! MORE FOOD!!!!!!!!!!!!!!!!!!! lol

This was where i wanna be when i was in Melbourne.. lol.. but no time to shop.. cos my purpose in the city was to meet my frenz
Met up with Euric in front of the big Nike shop in the city.. was supposed to meet Zac at the same time too.. but he told me that he will be late since his class was gonna end a bit later..
So we decided to walk to Max Brenner(in Melbourne Central) n wait for him there…
when i was happily walking.. looking at things around me… I sudenly noticed an object on my left which looked damn familiar…
Soon I found out it was a human.. aha
Well this guy was sitting with a fren.. enjoying his glass of latte…
so i stood next to him n say out loud to Euric "this guy is soo familiar".
the guy turned to look at me n with a surprised face, he said.. "u look very familiar too! .. smashpOp!?"
i replied "yeah.. haha"
"why r u here(in Melb)? shouldnt u be in … Malaysia?"
n then we continued asking silli questions n all.. ahha quite funny
then wat else…. take picture lah! lol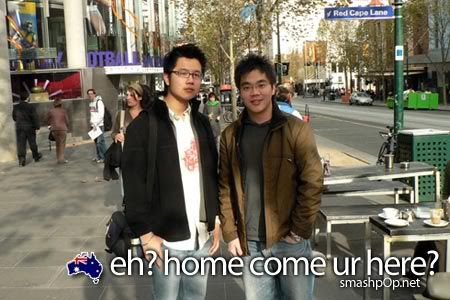 He's actually Gavin Tan .. the guy who takes nice photos.. lol.. I remember his face from his blog.. he used to put the pic up before… yea.. thanks to our blogs. aha :þ
n we finally reached Max Brenner.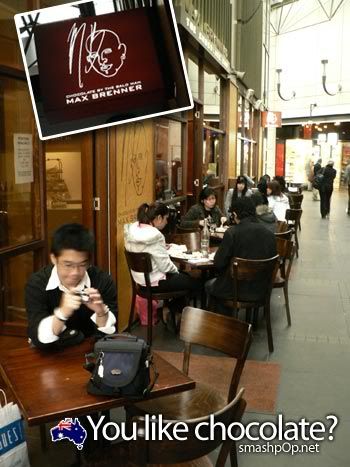 Nice place… its actually a cafe that serves everything choclate
oh i also snapped a pic of the chocolate pizza we had.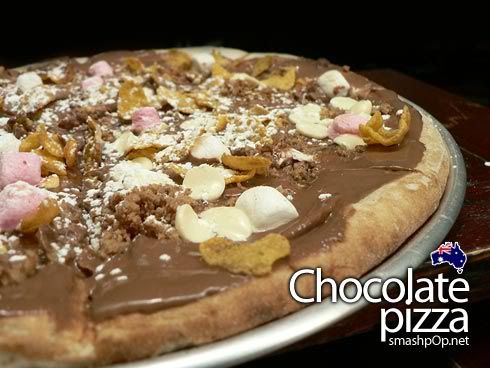 Damn nice.. ahha it has marshmellow, cornflakes, choclate, peanuts.. on the bread