I cannot tahan d!!!!!!! I must post more photos from the Nokia N82 Wireless Challenge!!!! lolololol
This is just a summarised version ok. I'll go deep into the details again after my Sydney, Redang and birthday posts. 😀
On friday evening, we were gathered at the hotel function room and all of us got ourselves an N82.

Happy can! We all spent like 30minutes playing before the briefing commenced.
8 members of the public and 8 members of the media will form 8 teams, each comprises of 1 media + 1 public.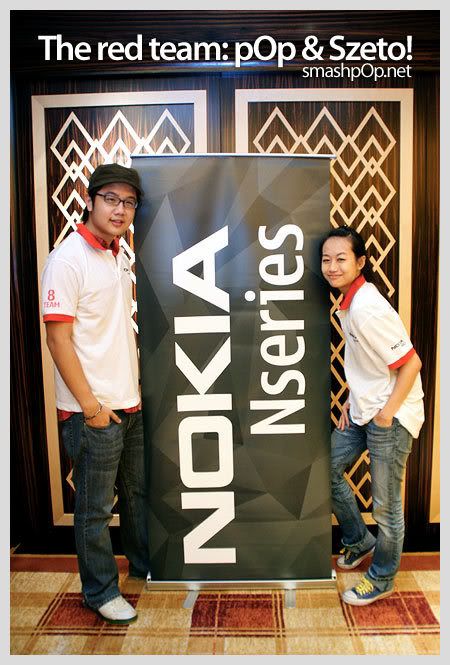 and as randomly picked from the members of the public, Szeto was assigned to be my team mate! WOOT!! Wassup Szeto!
Nokia was generous enough to let us stay a night at One World Hotel.. the night before the challenge.

My roommate, David! ahhahaha. That's my legs btw. We took too many photos in the room together that my memory cards were quickly filled wihout me realising.
The next day, we had breakfast and then David, Szeto and I went 1U to buy 'socks' for our N82s.
Lunch at Bakerzin was a treat by Nokia too. Damn nice food.
The media interview and briefing took place at about 3pm.

Pinkpau suggested we took a photo of ourselves, the 4 invited bloggers for the race. (Pinkpau, me, Kimberlycun, Suanie)(Photo taken using my N95)
The race then started with a Nokia marshal and a videographer assigned to each team to follow us around.
We were given 5 themes and we have to go around KL to take 5 photos for each theme using our N82.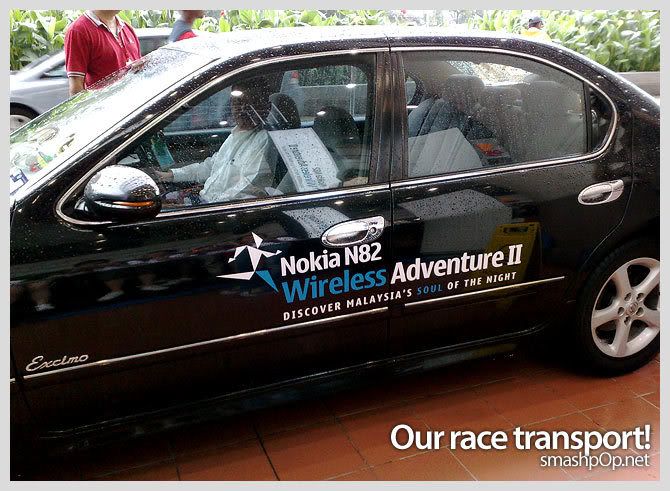 Each team gets a Nissan Cefiro and a driver too… to transport us to anywhere we wanna go. (this photo taken using my N82)
The race ended at 930pm. Our photos were judged by a few judges and while waiting for the results we took photos.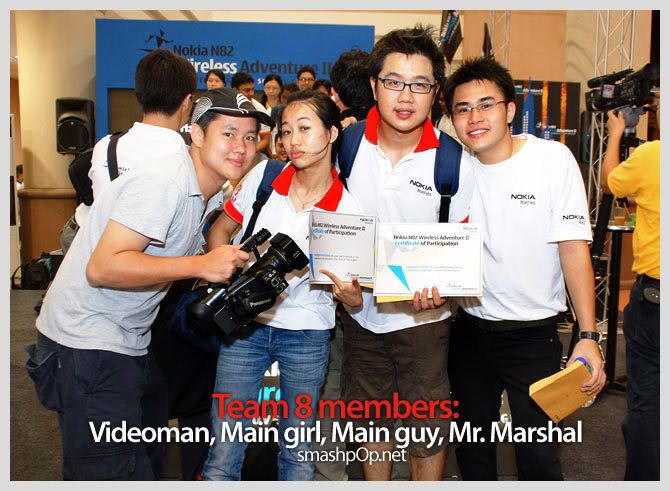 Thats our team! Kelvin, me, Szeto and Melvin.

Thats me and Szeto… we were at 2nd place! and Suanie's team got 1st place and they won tickets to Hongkong and RM1500 spending money each.
ok thats it! lol thats the summary of the whole N82 challenge.
Oh here's a video… of a video of us.. during the N82 handover at the hotel.

WATCH IT!!!!!!!!!!!!!!!!!!!!!!!