Im trying to speed things up… cos at the rate im posting… I might need 3 mroe weeks to finish my OZ pics.. lol
i need to put them up no matter what cos i might need to view them in the future.. say.. after 3 years? lol.. its a 'web diary' anyway 😛
so the next day, we woke up at about 8am to have breakfast at the hotel coffee house.

After eating, I went outside to jump in front of the beeeautiful view 🙂
then…. then…. at about 10am..
we went to SEA WORLD!!!!


finally.. a place that sounds fun… haha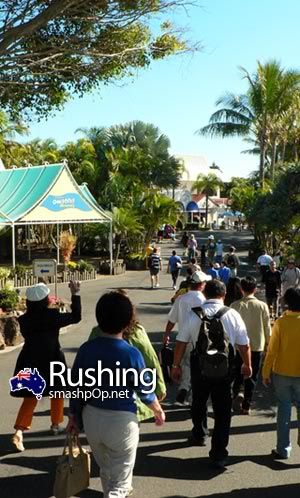 the moment we went in.. the whole tour group was asked to rush to the dolphin show.. so we walked walked n walked.
We were rushing but i couldnt resist from taking a pic here


Then we continued walking.. -_-"
and we saw this on our right… clear water with a dolphin in it? (it's actually the place where new dolphin instructors are trained.)