*** Older posts have been archived. Please click on the 'older posts' link at the bottom of the page to view them***
Today is the day that everyone in the office was waiting for.. its the day when we give presents to each other but in a very unique way.. It's the Secret Santa game..
2 weeks ago we secretly picked our friends' names from a cup and without telling anyone.. we have to buy him/her a present of not more than 20 bucks..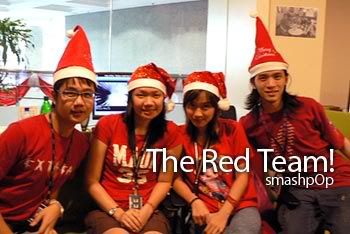 and because of this event.. the webdev team(Cherrie, Me!!!, Albert and Jen) decided to wear red cos I've bought ourselves 4 red Xmas hats to match it.. lol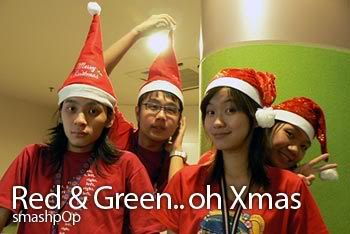 so we started to pose.. (history repeats itself!! a year ago we did the same thing!!)

Cynthia (our 'miss photographer' told us to pose so that the picture only shows our faces..) 😛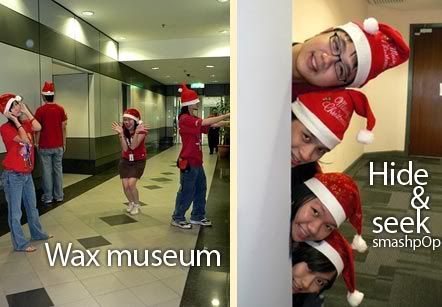 then I suggested to take some pics outside the building.. so we started taking pics again walking..

so we reached the park and we jumped!!(trademark lah.. lol)

After that.. it was already time for the secret santa game to start.. so when we went back to office.. we took some pics of the presents that we gathered

then we took pics with Nelsen.. cos today is his last day working as a streetsurfer(byebye nelsen)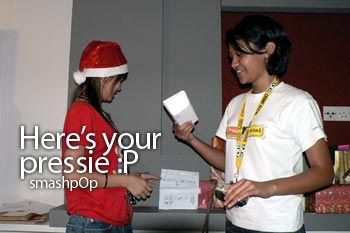 our friends nominated the 4 of us to present the gifts.. so Cherrie starts first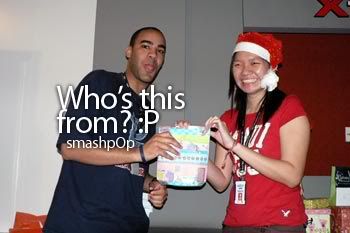 then it was jenifer's turn(giving out the present to my boss)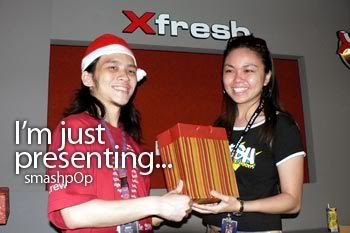 hoho.. and albert replaced jen..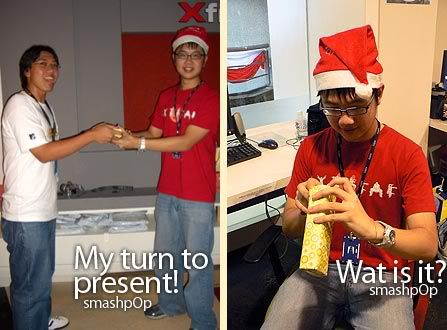 and finally it was my turn.. then the ceremony ended… everyone started to unwrap their own pressie.. so did i.. lol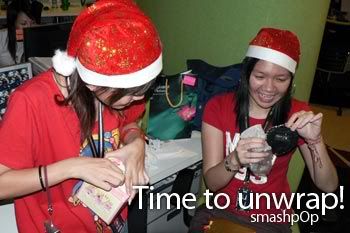 cherrrie n jen also tak sabar² to unwrap their stuff.. lol
so thats the end of my working hours on this beautiful friday… i love my colleagues.. 🙂

*** Older posts have been archived. Please click on the 'oldr posts' link at the bottom of the page to view them***