On the 20th of July, Albert and I were invited to attend the launch of the new Sony dSLR in KL Tower.
So we went there as media representing Xfresh.

We were so eager to get up there .. but before that.. must take some pics first.. haah
The event started with speech given by some Sony big boss from Japan and Carl Zeiss.

2 Sony big bosses from Japan and the one on the right side is one of the directors from Carl Zeiss Corp.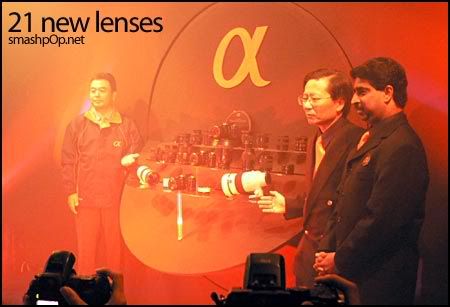 They laso launched 21 new lenses for the Alpha… consisting of tele lens, fized focus lens, etc etc.

Thats Albert and I playing testing the new Sony A-100 + the 75-300mm tele lens.
For more info on the features of the Sony A-100, click >>HERE<<
Currently, they are offering 2 packages for the customers.
They are:
(A)Body + 18-70mm lens (RM3599)
(B) Body + 18-70mm lens + 75-300mm tele lens(RM4499)
so anyone ineterested? can go buy from Sony Wings