For those who missed my appearance on Astro AEC(channel 19), the last repeat show is tomoro at 1230noon. Check it out if you can. It's a talk show. My short movie will be shown in the middle of the show.
—————————
More pics from Bryan's Bday @ Souled Out!

3 hawt chiqs Kelli, Cheryl n Nat

Asyraf, Stef, me and Bryan.

Bryan in his "birthday suit" (haha) posing.

Xfresh crew: Albert, Cherrie, Me
Ex-Xfresh crew: Slinky, Jen
Tumpang gambar Xfresh crew: Rames ahhaa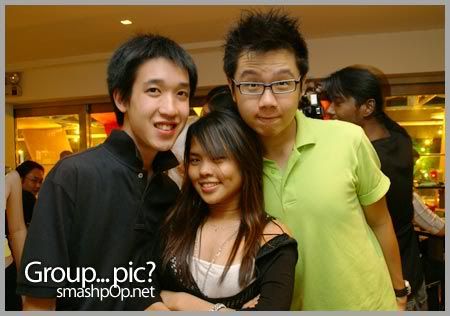 The lovely couple and I.
Lastly,
Finally,
Akhirly,
A pic of some of the guys there

IZ US!!!
Back row: Me, Rames, Bryan, Slinky
Front row: Ivan, Calvin