So today is the last day of the RM2 promotion at this sushi restaurant. Anyone went? Did you guys enjoy urself?
I dont know about u guys but my friends and I got damn pissed when we were there at the Mines branch.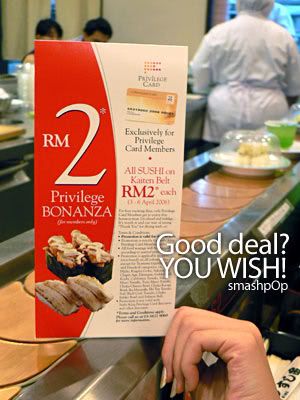 We were so happy when we saw this and went there on the first day of promotion itself… when we were there.. we found out.. plates with SOLID colour are all at normal prices.. which are RM4 and RM6.(The last time they had this promo, everything on the kaiten belt was inlcuded)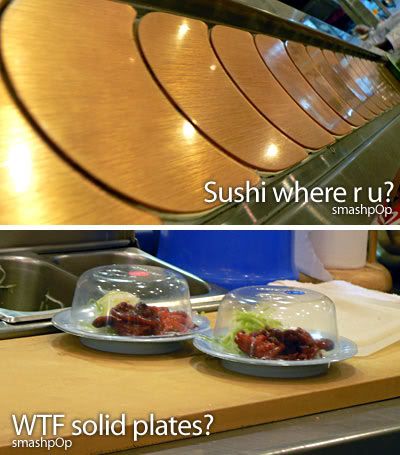 FINE! we then decided to get those stripe plates that are ranged from RM2 to RM6.
BUT THERE WEREN'T ANY ON THE KAITEN BELT!!!! SO WHAT SHOULD WE TAKE ?!?!?!
oh look.. there r 2 stripe plates coming.. ah nearer.. nearer.. WTF?! blue stripe and yellow stripe?(rm3 n rm2 respectively).. we dont want this! we want red stripe! pink stripe! purple stripe! WHERE WHERE WHERE????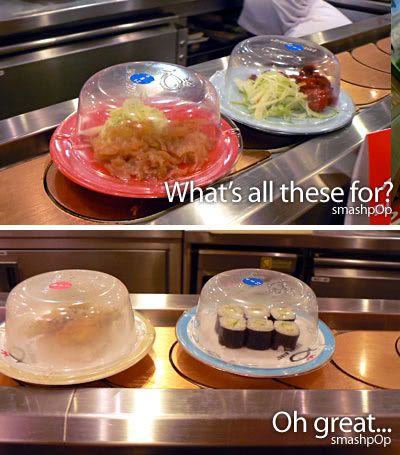 Then they started making new ones.. we were happily waiting then we saw them putting the sushi on solid plates. WTFFFFFFFFFFFFFFF!!!!!! SOLID PLATES NO DISCOUNT LA HELLO! MAKE SOME STRIPED PLATE SUSHIS!!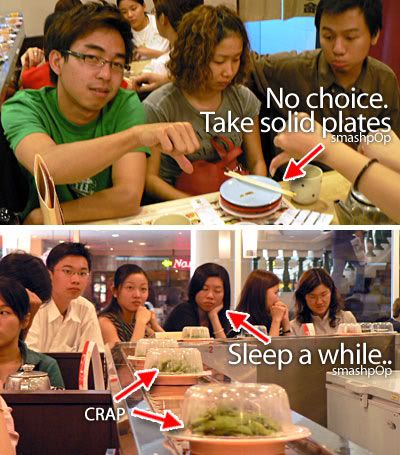 Naomi was damn hungry.. so she took some solid plate ones.. saddening.. came here for RM2 stuff.. but in the end.. took normal price stuff…
and can you guys see what happened to the other customers? they were bored looking at the empty kaiten belt with unwanted sushis…
One more annoying thing about this place was ……. jeng jeng jeng… NO STAFF! we waved our hands for soo long before someone attended to us.. i really have nothing mroe to say about that..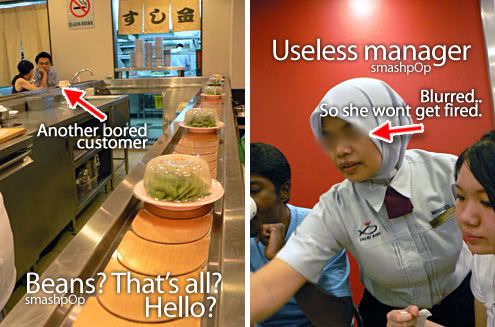 so we sat there for 15 more minutes… what we saw was just plates of green beans on solid plates… moving past us.. plate after plate… for a moment i thought we were at Vegetarian King. -_-"
Rames had some problem with his chair when the manager was serving us.. As a manager of the restaurant, when u see your customers having some problems with the furniture(in this case, the chair).. you should lend a hand. BUT U DIDNT!!! U LOOKED AT HIM… AND THEN TURNED AROUND AND WALKED AWAY.. WHAT IS THIS?!?!?!?! YOU CALL THIS SERVICE?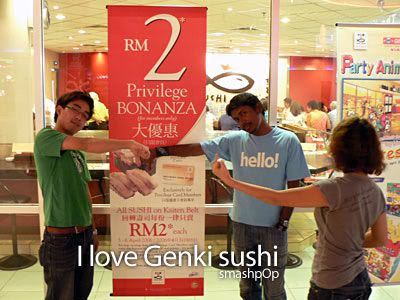 As a conclusion, Genki Sushi rox!