Went to KLPAC yesterday to watch a play called "The Homecoming" with Jit.
Another purpose of me going there was to take some nice pics since Albert kept telling how nice the place was and showed me pics he took there everytime i go to office.. lol
Before entering the hall, I met Fireangel, Paul Tan, Shaolin Tiger, Kimberlycun, Suanie and Cheneille.
Here come's the picchas!


KLPAC is actually side by side with this Sentul Park. This photo that i took was nice.. but dont u think it's nicer after i did some editting? lol..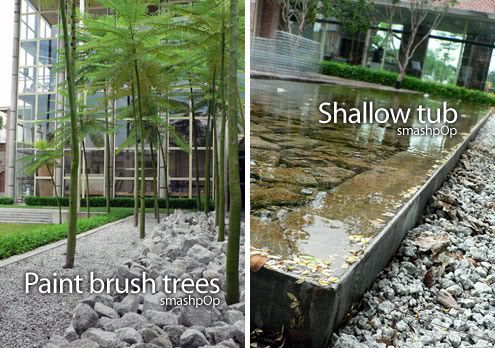 The building was mostly made out of glass.. and these trees reminds me of the drawing i did during school time when we had to draw the branches using a thin paint brush.
Don't ask me why i call the water thingy a 'tub'. It was a sunny day.. i was sweating.. i felt like bathing.

It's not a zoo.. but they do have crocodiles there… so beware n dont go near the water when u visit the place in the future.

A good angle of the staircase.. what do u think?

I totally forgot about the stories Albert told me about the toilet until i felt like peeing… ahha so yeah.. the taps are nice.. but i wanna see the original ones!
EH WAIT? WHATS WITH ALL THE ARTISTIC SCENERY PICS? WHERE ARE MY PHOTOS?????
AAAAAAAAHHHHHHHHHHHHHHHHH……. I FORGOT TO PUT THEM IN…
oh well.. come back tomorrow for another exciting episode of "KLPAC & smashpOp" 🙂